Galapagos Explorer II Yacht
The M/V Galapagos Explorer II is designed to provide comfort for 100 passengers visiting the Galapagos National Park. With hull stabilizers, this is one of the most comfortable cruises to the islands. Facilities on board include 50 suites, a boutique, library, conference room, restaurant, Jacuzzi, solarium, observatory deck, 24 hour coffee and tea Station, medical assistance, massage suite and satellite communication. All suite accommodations include convertible double beds, extra sofa bed for triple configurations, mini-bar, television, marble bathroom, private safety deposit box, walk-in or large closets, hair dryer and a vanity dresser. Complete with a crew of 70 and 10 Level III guides.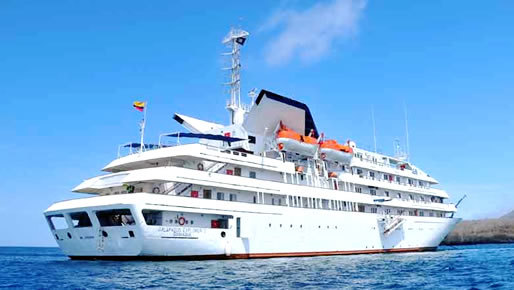 Toll free in the USA & CANADA: 1 800-701-4039 Freephone in the United Kingdom: 0 808 2346805
INTINERARY
4 day cruise Wednesday - Saturday
Wednesday: San Cristobal - Cerro Brujo
Thursday: Punta Suarez - Espanola - Gardner Bay
Friday: Charles Darwin Station - Santa Cruz Highlands - Rabida
Saturday: Bachas - Santa Cruz - Baltra

5 day cruise Saturday - Wednesday
Saturday: Baltra - Cerro Dragon - Santa Cruz
Sunday: Bartolome - Puerto Egas - Santiago Island
Monday: Punta Espinoza - Fernandina - Punta Vincente Roca - Isabela
Tuesday: North Seymour - Santa Cruz Highlands
Wednesday: Loberia or El Junco or Interpretation Cente - San Cristobal

8 day cruises from Saturday to Saturday or from Wednesday to Wednesday
End of our services.