Aida Maria Yacht
The Aida Maria is a 16 passenger, superior tourist class motor yacht that offers good accommodation, service and food. The 8-day itinerary is designed as a continuous itinerary whilst offering the options of 4 and 5-day possibilities. There are 8 double cabins all with private facilities. Full crew with a level II naturalist, guide.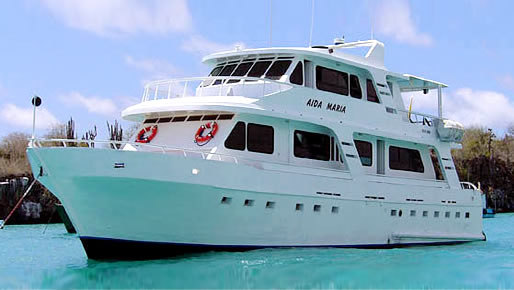 Toll free in the USA & CANADA: 1 800-701-4039 Freephone in the United Kingdom: 0 808 2346805
INTINERARY
Day 01: Sunday Baltra - Bachas
Day 02: Monday Plazas Islands - Santa Fe
Day 03: Tuesday: Española Island
Day 04: Wednesday: Floreana Island
Day 05: Thursday: Santa Cruz - Charles Darwin Station - Highlands
Day 06: Friday: James Bay - Rabida
Day 07: Saturday: Bartolome - Sullivan
Day 08: Sunday: Seymour North - Baltra

The 8 days tour departs on Sundays and Thursdays.
The 5 day tour departs on Sundays.
The 4 day tour departs on Thursdays.


End of our services.