2023 Affordable Escape to the Galapagos
GUAYAQUIL/ QUITO - GALAPAGOS ISLANDS - GUAYAQUIL/ QUITO
Toll free in the USA & CANADA: 1 800-704-2915 - Worldwide
INTINERARY
Travel Style:
Family-friendly, Nature & Wildlife, Romantic escape
Highlights:
Cruise the Galapagos Islands; an iconic conservation milestone onboard the First class Coral cruise on the 4 days / 3 nights C West itinerary.
Day by Day Itinerary
Day 1. QUITO/GUAYAQUIL
Welcome to Quito/Guayaquil. A representative will greet you and transfer you to your hotel. You will have free time to explore the city or relax and settle in. Overnight: Good 3 star Hotel in Quito/Guayaquil.
Day 2. QUITO/GUAYAQUIL - GALAPAGOS ISLANDS (Breakfast & dinner)
After breakfast, transfer to the airport for the flight to from Quito or Guayaquil to Baltra Island (2 &frac12-hour flight). Arriving in the Galapagos, passengers are picked up at the airport by our natural guides and taken to a ten-minute bus drive to the pier to board the M/Y Coral I or M/Y Coral II. In the afternoon, the excursion starts with a visit to North Seymour Island This is perhaps one of the busiest tourist destinations on the archipelago. Off Baltra Island (where the airport is located) and not far from Santa Cruz, North Seymour is the most accessible for day trips out of Santa Cruz's main port, Puerto Ayora. An approximately two hour walk amidst large nesting colonies of blue-footed boobies*, magnificent and great frigatebirds,* and swallow-tailed gulls for an in depth encounter with sea bird breeding cycles and as well as sea lions. You will also encounter sea lions, land iguanas, and on a lucky day, you might even come across a Galapagos Snake.

Difficulty level: intermediate
Type of terrain: rocky ground
Duration: 2-hour walk / 30-minute snorkeling
Day 3. GALAPAGOS ISLANDS (All meals)
After breakfast, we visit the Charles Darwin Station and Fausto Llerena Breeding Center where the Galapagos giant tortoise breeding program takes place as part of our efforts to preserve the fragile Galapagos environment and where the famous Lonesome George (the last surviving specimen of his species) lived for decades. Here you will be able to see tortoises through all their stages including hatchings, juveniles, and full-grown individuals. The breeding project began in the 1970's and has been an incredible success in helping to repopulate the Galapagos Giant Tortoise population. Out of the eleven species that were once considered to be endangered species 10 subspecies of Galapagos Tortoise have been brought up to guarded levels. The most successful story is the one of the Espanola Tortoises. When the program began, it consisted of a total population of 3 males and 11 females. As of 2008, these 13 tortoises are the parents of over 1000 young tortoises that now roam free on Espanola. The Darwin Station also works providing environmental education to communities and schools within the islands and to tourists visiting the Galapagos Islands.

Difficulty level: easy
Type of terrain: flat
Duration: 1 &frac12-hour walk

In the afternoon a visit to the Mosquera Islet. This involves a Wet Landing, as Mosquera Islet is a tectonic uplift of sands, coral reefs and rocks, located between North Seymour and Baltra Islands. This flat 0.022 mi (0.06 km ) white sand island has one of the largest colonies of sea lions. Because of this, there are occasional reports of killer whales seen around this islet. It is also an excellent site for observing shorebirds such as herons and Lava Gulls. You can also spot marine iguanas, blue footed boobies and sally light food crabs. There is no trail on Mosquera Island, so any visitor can enjoy an open area. Most of the islet is covered with sand and barren lava rock. Very little sesuvium portulacastrum grows on the sand. It is a fun snorkeling site, just swimming off of the beach. There's a good chance snorkelers will be joined by one or several of the numerous sea lions who live at this Island, specially the playful young ones. An easily accessed scuba diving site, Mosquera's maximum depth for this dive site is 30 m and currents are generally mild. This site is famous for the sea lions that come and play during the dive. Sharks, turtles, rays, barracudas and tropical fish are common in this area.

Difficulty level: easy
Type of terrain: sandy
Duration: 1:30 hour walk & snorkeling
Day 4. GALAPAGOS ISLANDS (All meals)
After breakfast, a dry landing to the two Plaza Islets (north and south) located east of Santa Cruz Island. On the northern part of the Islet, visitors begin the journey along an impressive cactus forest where colourful yellow and red land iguanas live, the population number is around 300 animals; during the dry season they survive on fruits and flowers of the opuntia cacti. A peculiar thing to see in South Plaza is the hybrid iguana (sea and land). When reaching the highest point, tropicbirds can be seen. During the dry season (June - January) the usually greenish and yellowish vegetation change of color creating a bright red landscape (sesuviumedmonstonei plant).

Difficulty level: intermediate
Type of terrain: rocky
Duration: 2-hour walk

In the afternoon, a wet landing to Santa Fe Island. Santa Fe shows white sand beaches surrounded by sea lion colonies; through the island path, an endemic cactus forest is passed, home to the Santa Fe land iguanas (the largest in the islands). This island is the habitat for a number of species, including the Galapagos hawk, Galapagos snakes, rice rats (one of the few endemic Galapagos rodents), a variety of finches and one of the four mockingbird species of the archipelago.

Difficulty level: intermediate
Type of terrain: rocky
Duration: 1 &frac12-hour walk / 1-hour deep-water snorkeling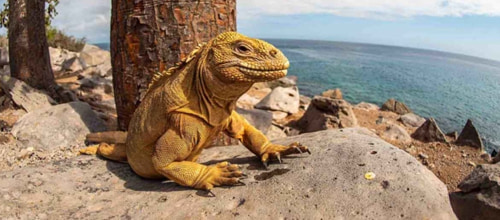 Day 5. GALAPAGOS ISLANDS - GUAYAQUIL/ QUITO (Breakfast)
After breakfast, a dry Landing to Isla Lobos, approximately 20 minutes by boat from Puerto Baquerizo Moreno. Once on the island, the trail is about 850 meters and there will be rocky trail and a nice & easy sand trail too. There is a small population of blue-footed boobies and great frigatebirds nests at this site. You can also find a colony of sea lions. During the boat ride, you can see brown pelicans and several species of shorebirds.

Difficulty level: moderate
Type of Terrain: rocky terrain - sandy
Duration: 1:30 - hour walk
After the visit, passengers will be transferred to the airport for their return flight to Guayaquil/Quito and onward flight home.
Tour price in 3 star Hotels and a First class cruise: US$2955.00 per person
Rates do not apply for high season dates (Jan 01-05, Apr 5- May 25, Jul 3-Aug 26, Oct 2-Nov 22, Dec 18- Dec 31)
TOUR PRICE INCLUDES:
Accommodation in double rooms at selected 3 star hotel and 3 nights aboard a first class expedition cruise in a standard plus cabin
All meals as indicated on the itinerary
Transfers, tours and excursions as per itinerary with English speaking specialist guides
All internal flight tickets in South America
TOUR PRICE DOES NOT INCLUDE:
International flight to/from Ecuador
Galapagos National Park Tax ($100), the migratory fee ($20) (These must be paid in person in cash dollars)
Meals not indicated
Personal expenses such as telephone bills, laundry expenses, beverages, etc
Insurance against theft, loss, illness and/or accident etc
Gratuities, baggage porterage and other extras not specified