Legend Cruise
A 100-passenger cruise ship, the Legend will offer the extra comfort many people will be seeking. With all the commodities of a cruise liner yet it is still small enough for a more intimate experience with nature. With fully carpeted and air-conditioned state rooms (54 external and 3 internal), and with hot and cold water supply, the Legend is a ship specifically conditioned for Galapagos Islands cruises. You will be able to bathe under the sun at the sky deck by the pool and with broad observation decks you will be able to spot dolphins and whales in the rich Galapagos waters. With al fresco dining areas and a kids corner equipped with soft padding, stuffed animals and video games, the Legend caters for couples and families alike. There is also a boutique with souvenirs and an on board clinic with a 24 hour doctor on duty. Full crew with 10 Level III naturalist guides.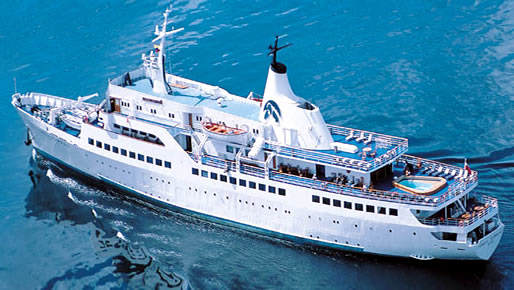 Toll free in the USA & CANADA: 1 800-704-2915 - Worldwide
ITINERARY
4 day cruise Monday - Thursday
Monday: Baltra - North Seymour
Tuesday: Genovesa - Darwin Bay
Wednesday: Punta Suarez - Interpretation Centre
Thursday: Black Turtle Cove - Baltra

5 day cruise Thursday - Monday
Thursday: Baltra - Bartolome
Friday: Punta Espinoza - Tagus Cove
Saturday: Santiago - Rabida
Sunday: Charles Darwin Station - Santa Cruz Highlands
Monday: Bachas - Baltra


8 day cruises from Monday to Monday or from Thursday to Thursday
End of our services.