Isabela Cruise
The Isabela II, a 40-guest luxury cruise ship with 20 external cabins plus an owner's suite, is the most luxurious yacht cruising the Galapagos Islands. It offers an elegant yet relaxed atmosphere for experiencing the full adventure of the Galapagos Islands. Fully air-conditioned, all cabins are spacious and have private bathrooms. Its three public decks offer the amenities of a larger vessel, including bar-salon, dining room and sun deck. The library contains a large selection of reference books on the Galapagos and Ecuador, as well as a large source of excellent nature and conservation videos, making this reference library the most complete source of information of any Galapagos vessel. From dining room to stateroom, one senses the superior quality at all levels of service. With trained chefs preparing a superb a-la-carte selection of meals, all the staff are here to attend your every need. The sun deck is comprised of a bar with ample outdoor seating, an observation area for whale and dolphin watching, a Jacuzzi and solarium. As an alternative to snorkelling, the glass-bottom boat offers another opportunity to observe the Galapagos rich marine life. The Expedition Team consists of three Naturalist Guides class III and all will delight guests with diverse natural history explanations, superb on-deck talks, in addition to eye-catching lectures regarding natural history issues. Their multimedia presentations and recaps will complement each day's activities. At night, stargazing is a wonderful nocturnal activity.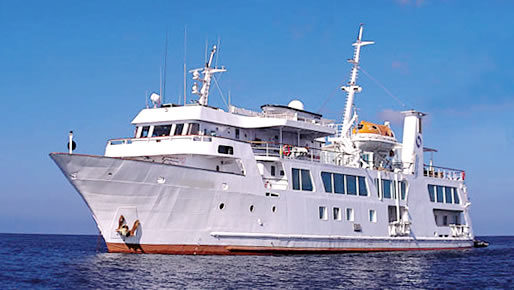 Toll free in the USA & CANADA: 1 800-704-2915 - Worldwide
ITINERARY
8 Days / 7 Nights: Tuesday - Tuesday (Tuesday). Day1. BALTRA - NORTH SEYMOUR
Morning arrival to Baltra Island by TAME flight and transfer to the dock to board the ISABELA II. Onboard registration. Welcome introductory briefing and lunch. Afternoon disembarkation (dry landing) to North Seymour Island for a walk along the coast and the interior of the island, observing bird colonies of blue-footed boobies, frigate birds, swallow tailed gulls and also sea lions and marine iguanas. A shorter walk is also available. Welcome Cocktail offered by the Captain. Naturalist's briefing on the next day's activities and dinner.
(Wednesday). Day 2. ESPANOLA ISLAND - GARDNER BAY
After breakfast, disembark (wet landing) at a white coral beach where you can take a short walk and watch the sea lions, mockingbirds, finches or enjoy the beach.. There is great snorkelling in this area (snorkelling equipment is available for all guests), or ride the glass-bottom boat around Gardner or Tortuga islets.
ESPANOLA ISLAND - PUNTA SUAREZ
Afternoon dry landing for an exciting walk on lava terrain to visit its unique sea bird colonies, including the Waved Albatrosses (May - December) and the famous blowhole. A shorter walk is also available. For those not planning to walk there will be a panga (dinghy) ride along the coastline of Punta Suárez. Naturalist's briefing and dinner.

(Thursday). Day 3. FLOREANA- PUERTO CORMORANT
After breakfast, disembark at Point Cormorant (wet landing) for an easy walk to see the flamingos that inhabit a brackish-water lagoon, and other birds such as ducks, stilts, sandpipers, etc. There is great snorkeling from the beach or near by, at Champion Islet or the Devil's Crown. Those who do not snorkel can enjoy a ride on the glass-bottom boat. Lunch on board.
FLOREANA - POST OFFICE BAY
Wet landing at the historical Post Office Bay to learn about the human side of the islands, its early inhabitants and the adventures of pirates and whalers. Then, a panga ride will take you to nearby islets to observe sea lions, rays and sea turtles, boobies and possibly the Galapagos penguin. Naturalist's briefing and dinner.
(Friday). Day 4. SANTA CRUZ
After breakfast, disembark (dry landing) to visit the Charles Darwin Research Station and the giant tortoise pens, an impressive giant prickly-pear cactus forest and land birds like Darwin's Finches, Galapagos Mockingbirds and Flycatchers. Then a stroll along the main street of Puerto Ayora. Lunch at the Hotel Delfín. Afternoon in the highlands, visiting the Scalesia forest and the twin pit craters Los Gemelos. Land birds of the highlands may include the Vermilion Flycatcher, Tree Finches and possibly the elusive Woodpecker Finch. From December to mid-April a visit to see the giant tortoises in the wild may be included, if weather conditions are good. Naturalist's briefing and dinner.
(Saturday). Day 5. TOWER ISLAND - DARWIN BAY
Morning wet landing for an easy stroll observing thousands of bird life, mainly frigate birds, red footed and masked boobies, gulls, herons, finches and mockingbirds. If you wish you can continue walking over sharp lava and uneven terrain, or just go back to the beach to enjoy swimming and snorkeling at this beautiful natural harbour. Those most adventurous can look for Hammerhead sharks, snorkeling along the cliffs. Lunch on board.
TOWER ISLAND - PRINCE PHILIP'S STEPS
The afternoon starts with a very interesting panga ride along the cliffs and then disembark (dry landing) on rocks for a steep climb (90 feet) and then a leveled walk for about a mile to the other side of this small island observing large colonies of masked boobies, frigate birds, storm petrels and the short-eared owl. Naturalist's briefing and dinner.
(Sunday). Day 6. FERNANDINA ISLAND - PUNTA ESPINOZA
Early risers will enjoy the dramatic landscape of the youngest volcanoes in Galapagos, like the volcano Ecuador, whose collapsed crater is partly under water, while crossing the Equator line. It is here where the coolest waters are found, with great chances to observe whales and dolphins. The morning brings us to the youngest island, Fernandina. Disembark (dry landing) for a one-mile walk. Punta Espinoza has an amazing combination of barrenness with lots of wildlife. Having no introduced mammals, Fernandina has a very unique environment with the highest density of marine iguanas; sharing their space with sea lions, sally-light foot crabs, hawks, penguins and the flightless cormorant. Lunch on board.

ISABELA ISLAND - URBINA BAY
After lunch, scenic cruise along Bolívar Channel for possible whale and/or dolphin spotting. Disembarkation (wet landing) for a medium-length walk at Urbina Bay to look for giant tortoises and land iguanas. This place went through a volcanic uplifting event back in 1954 leaving gaunt marine skeletons, which make the walk remarkably interesting. Those who wish may take either only a short walk along the beach, or a longer walk towards the interior of the island. Swimming and snorkeling depending on local conditions.
(Monday). Day 7. JAMES ISLAND - PUERTO EGAS - BARTOLOME ISLAND
Wet landing for a mid-length walk. Most of the landscape is tuff-stone layers and lava flows. This is a great opportunity to see land and marine birds. At low tide, marine iguanas graze upon the algae beds and there is a colony of fur-sea lions. Good snorkeling and swimming from the beach after the walk. Lunch on board while navigating to Bartolomé. Disembark at Bartolome Island (dry landing) for a hike to the summit. This is a steep climb aided by a wooden staircase; the view from the top is worth the effort. There will be time for a panga ride around Pinnacle Rock to observe penguins, to enjoy the beach (wet landing), snorkeling and swimming from the beach, or a ride on the glass-bottom boat. Farewell cocktail and briefing.

(Tuesday). Day 8. BALTRA
After breakfast, disembark and transfer to Baltra's airport for the return flight back to the mainland.
End of our services.