Eclipse Cruise
The Eclipse is a 210 ft expedition vessel which is one of the most luxurious yachts in the Galapagos. The yacht accommodates up to 48 passengers in staterooms, each with a sea view. Fully air-conditioned, the spacious cabins have either a double or twin bed arrangement and well-appointed bathrooms with fresh towels provided every day and the complimentary use of bathrobes. There is a well-equipped lounge for relaxation and for the nightly briefings on the day's discoveries and the following day's activities. In addition to the elegant indoor dining room, there is an al fresco dining area located around the dip pool, where you can enjoy the islands' spectacular scenery over a delicious lunch. There is also has a well-stocked library for quiet study and reading. One of the most popular areas on board the Eclipse is the observation/sun deck, ideal for stargazing, whale watching or simply relaxing in the comfortable sun loungers. The ship also has a bar, pool bar and a boutique for the purchase of exclusive souvenirs and Eclipse apparel. Taking children to the Galapagos Islands is an immensely rewarding experience. For this reason the Eclipse has selected family departures during the months of July, August and December. Specialist guides educate and entertain the children throughout the day, while you enjoy the cruise at your own pace, in the knowledge that your children are in safe hands and making their own discoveries about the history of evolution and the wonders of the islands. Full crew with 4 Level III naturalist guides.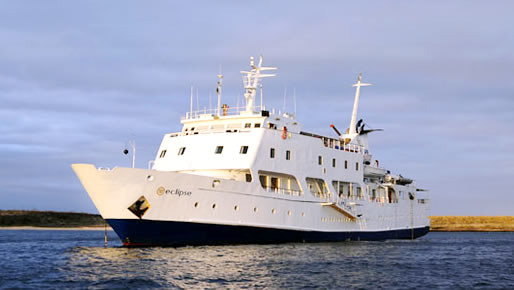 Toll free in the USA & CANADA: 1 800-704-2915 - Worldwide
ITINERARY
(Saturday to Saturday): 8 day/7 nights
Day 1: Baltra - Bachas Beach
Day 2: Puerto Egas - Santiago - Bartolome
Day 3: Darwin - Genovesa - Prince Philip's Steps
Day 4: Punta Espinoza - Fernandina - Tagus Cove - Isabela
Day 5: Urbina Bay - Elizabeth Bay
Day 6: Charles Darwin Station - Highlands
Day 7: Punta Suarez - Española Island - Gardner Bay
Day 8: Black Turtle Cove - Baltra


6 day/5 night itineraries depart on Saturday
End of our services.