Anahi Cruise
The M/C Anahi offers more comfort than on any other Galapagos boat of its size. This yacht visits the most remote and less visited excursion sites in the Galapagos Islands, you will practically have the Islands to yourselves during your 4, 5 or 8-day cruise. Just picture yourself walking on the Islands and having to make your way around nests carelessly built by blue footed boobies and frigate birds on the trail! Imagine feeling the cool Galapagos waters as you swim with penguins at the Equator and see playful sea lions through your snorkelling mask, manta rays and numerous species of colorful fish. Enjoy close encounters with armies of marine iguanas, hundreds of seabirds including the waved albatross, flightless cormorants and the magnificent frigatebird, visit "Lonesome George", the most emblematic of Galapagos giant turtles. It is a once in a lifetime vacation brought to you by the M/C Anahi, its guides and crew. 16 passengers are accommodated in 8 double cabins (6 on the main deck and 2 on the upper deck) with outside views, air-conditioning (A/C), private bathroom, hot water, locker and closet, Jacuzzi, comfortable dining room, bar and lounge; library, TV, DVD, stereo , first aid, ice maker, water purifier, observation deck/sundeck with chairs to sleep or relax.

4 days: Tuesday to Friday
5 days: Friday to Tuesday
8 days: Tuesday to Tuesday or Friday to Friday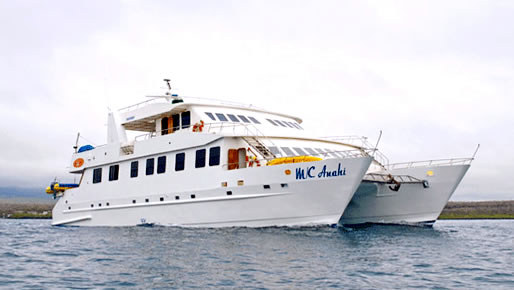 Toll free in the USA & CANADA: 1 800-704-2915 - Worldwide
ITINERARY
Friday: Bachas Beach - Baltra Airport - Plaza Island
Saturday: Interpretation Center - Tijeretas Hill - San Cristobal Island - Lobos Island
Sunday: Gardner Bay - Punta Suarez - Hood Island
Monday: Punta Cormorant - Post Office Bay - Floreana Island
Tuesday: Charles Darwin Station - Highlands - Santa Cruz Island
Wednesday: Chinese Hat - Puerto Egas - Santiago
Thursday: Sullivan Bay - Santiago Island - Bartolome Island
Friday: Bachas Beach - Baltra Airport - Plaza Island.

SPECIFICATION
Type: Luxury
Length: 90 ft. (27.60 m)
Speed: 12 knots
Capacity: 16 Passengers

End of our services.